日本経済新聞に弊社に関する記事が掲載されました。
日本経済新聞朝刊(2020年1月25日)にて、弊社が福島県にある未稼働の太陽光発電所を買い上げ、4月から稼働することが取り上げられました。
窮地の太陽光、未稼働なお5割
https://www.nikkei.com/article/DGXMZO54841490U0A120C2TJ2000/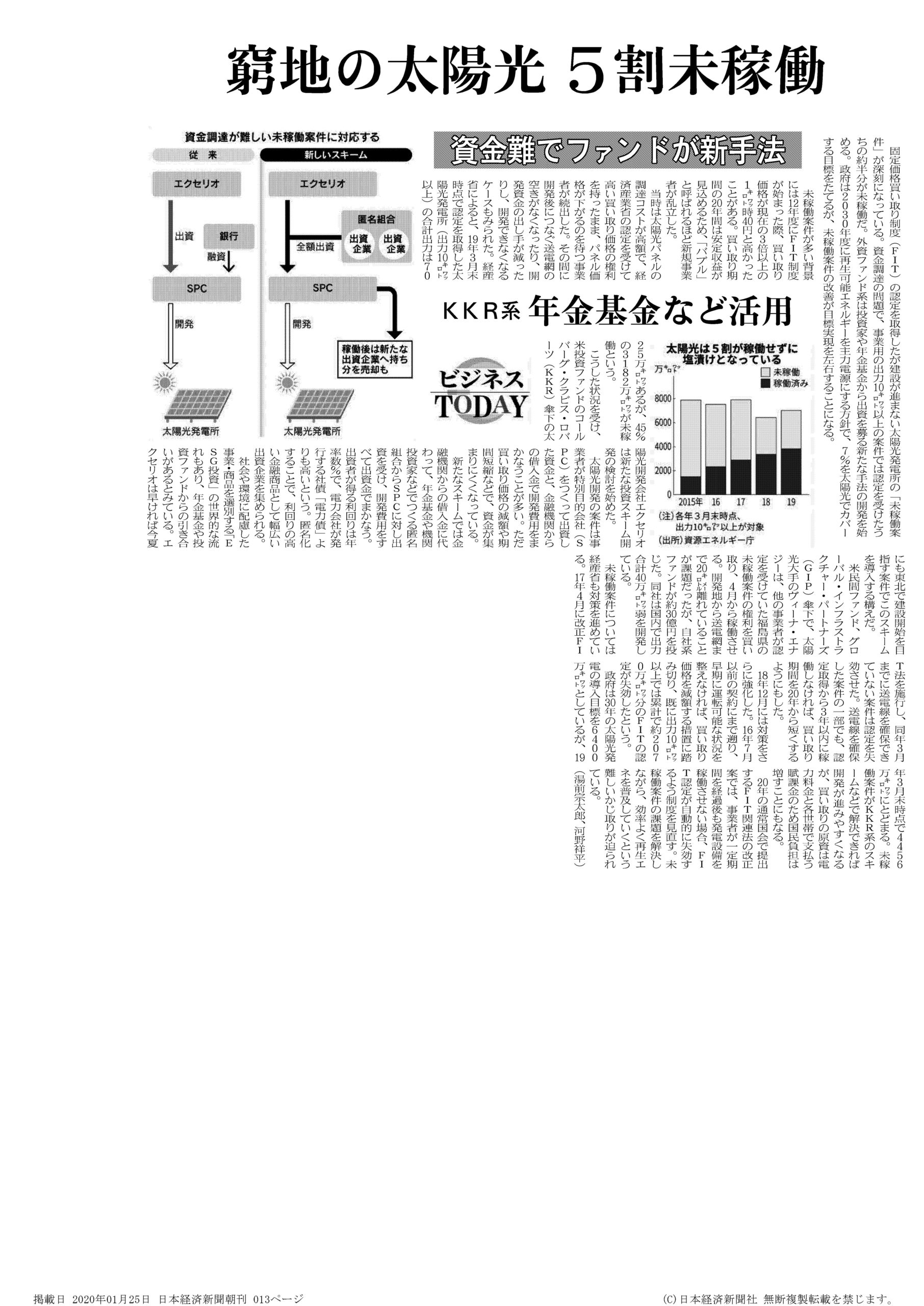 (以下、弊社による英訳文)

Solar power in distress – 50% still not operating, funding is the bottleneck – a KKR company coming up with a new method of investment utilization
The problem of "mikado (= not yet operating) projects" of solar power plants, which have obtained feed-in-tariff (FIT) approval but have not been built, is becoming serious. About half of the approved commercial assets with a capacity of 10 kilowatts or more have not started operating due to funding problems. Players associated with foreign funds are beginning to develop a new way to solicit investment from investors and pension funds. The government plans to make renewable energy a main source of electricity in FY2030, with a target of covering 7% with solar power, but the achievement of the target would depend upon improvement the situation of non-operating projects.
One of the reasons behind the large number of non-operating projects is that, when the FIT scheme was started in FY2012, the purchase price was high at ¥40 per kilowatt-hour, more than three times the current price. Since the 20-year purchase period was expected to generate stable earnings, so many new companies entered the market that it was even called a "bubble".
At that time, the procurement cost of solar panels was high, therefore many companies kept waiting for the panel price to fall while maintaining the right to the high power purchase price approved by the Ministry of Economy, Trade and Industry. There were cases where power grid capacity to connect to after development became no longer available or the number of investors willing to provide funds for development decreased while waiting, making it difficult to develop the project further. According to the Ministry of Economy, Trade and Industry, the total output of the solar power plants with FIT approval (capacity of 10 kilowatts or more) as of the end of March 2019 is 70.25 million kilowatts, but 45% of that, which is 31.82 million kilowatts, is still not operating.
Against this backdrop, X-ELIO, a solar development company under Kohlberg Kravis Roberts (KKR), a US investment fund, has begun to consider development of a new investment scheme.
Development cost of solar development projects is often funded by equity of the developer invested through establishment of a special purpose company (SPC) and borrowing from financial institutions. However, it is becoming more difficult to raise funds because of the decreasing power purchase price and shorter terms.
Under the new scheme, instead of borrowing from financial institutions, an anonymous partnership comprising pension funds, institutional investors etc., invests in a SPC and entire development cost is funded by the equity. The investors' yield would be a few percent per annum, which is said to be higher than "electric utility bonds", corporate bonds issued by power utilities. The anonymous partnership scheme can solicit a wide range of investors as a high-yield financial product.
There is also a global trend of "ESG investment" where society- and environment-friendly businesses and products are chosen, thus the company expects that pension funds and investment funds will show interest. X-ELIO plans to introduce this scheme from a plant it aims to start building in Tohoku which could be as early as this summer.
Vena Energy, a major solar power company under Global Infrastructure Partners (GIP), a US private fund, purchased the right to a non-operating asset in Fukushima Prefecture for which another company had FIT approval, and will start operating it from April. The challenge was that the development site was 20 kilometers away from the power grid, but the group's fund has invested approximately 3 billion yen. The company has developed a total output of nearly 400,000 kilowatts in Japan.
The Ministry of Economy, Trade and Industry is also taking measures to deal with non-operating projects. It put into effect the revised FIT Law in April 2017 and revoked FIT approval for those projects that had not secured grid capacity by March of the same year. Even for some projects that do have grid capacity, the power purchase period will be shorter than 20 years if such projects do not start operating within three years of obtaining FIT approval.
Countermeasures were further strengthened in December 2018. The METI implemented a measure to lower the purchase price if conditions for early operation are not met, going back even to the contracts before July 2016, and as a result, among the projects with a capacity of 10 kilowatts or more, FIT approvals for approximately 20.7 million kilowatts in total are said to have already been revoked.
The government has set the target for solar power generation implementation at 64 million kilowatts in 2030, but it is still at 44.56 million kilowatts as of the end of March 2019. It would be easier for development to progress if the problem of non-operating projects is resolved by solutions such as the KKR scheme, but it also means that the burden of the general public will increase because the cost of the power purchase is covered by the electric power charge and the levy paid by each household.
In the revised FIT-related bill to be submitted to the ordinary Diet session in 2020, the scheme will be revised to automatically revoke FIT approval if the company does not start operating its power generation facilities after a certain period of time. The difficult steering of efficiently driving renewable energy while solving the problem of non-operating projects is what is required right now.